There are plenty of ways to give life to bare walls. With some creative placement, a colorful collection of vintage bingo cards, weather vanes, a gnarled branch, mismatched framed mirrors or anything else you like can become an eye-catching wall installation and an expression of your personal style. Take a look at these 10 ideas for displaying common objects as unexpected works of art.
1. Weather vanes.
Collections of almost any kind have the potential to make great wall pieces, but objects with interesting patterns, colors, shapes or expressions especially add character to a room. Take a look at this collection of metal weather vanes mounted with brackets in the foyer of a home in upstate New York. Each animal stands out against the white wall, while the different patinas pick up tones from the side tables' metal knobs and the warm wood of the floor. Each vane is unique, but they all work well together in a grouping.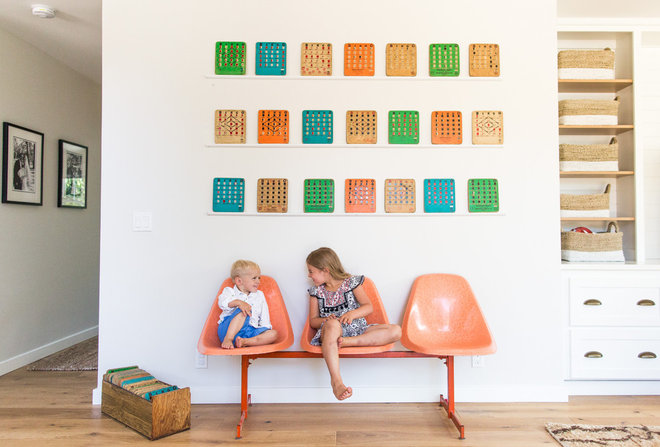 2. Vintage board games.
Drawn to the colors, typography and original wooden construction, interior designer
Kress Jack
picked up this set of vintage bingo cards at a flea market. "I knew they would make a great art installation somewhere and just waited for the right project," Jack says. The right project turned out to be a family room in Mill Valley, California, for clients who wanted a game room feel with vintage flair. Jack created narrow shelves for the bingo boards by mounting sections of quarter-round trim with the flat side up.
3. Nets and other tools.
Old farm implements, boat paddles, glass floats, fishing nets and other tools and equipment all tell a story. As wall art, they can add a sense of intrigue to a room. For example, you might not instantly recognize the pair of
Portuguese eel traps
above this fireplace in Portland, Oregon. They're hung with plenty of room to breathe, letting their graceful form and rich texture of the weaving stand out.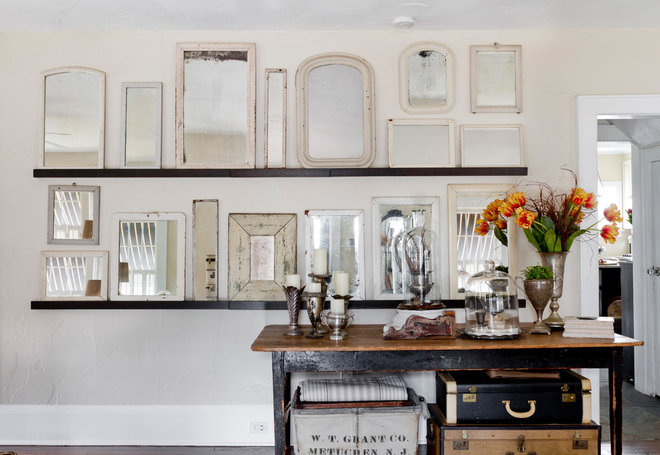 4. Mismatched mirrors.
The owner of this relaxed home in Point Pleasant, New Jersey, used a collection of vintage mirrors set on a pair of rails to adorn a large wall in the living room. The mirrors face the front of the house, reflecting light from the living room windows and defining the eclectic vintage style of the interior from the get-go.
To make a mismatched collection of nearly anything work well together, look for elements, colors or materials that establish a theme. The white frames and vintage styles tie this collection together, even though the mirrors vary in size and shape.
See more of this home's collections of flea market finds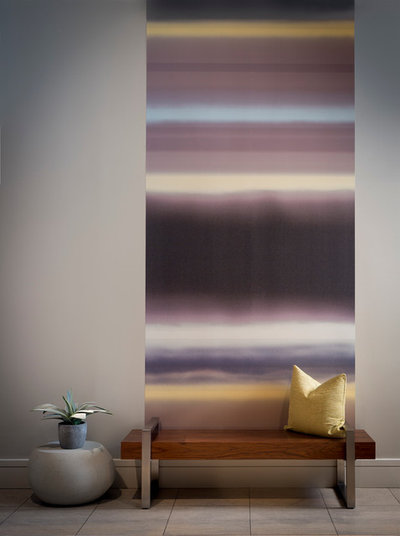 5. A strip of dramatic wallpaper.
Using a single strip of wallpaper as floor-to-ceiling art can be a great way to introduce a colorful accent or rich pattern without fully committing to covering the walls.
To make this look work, go for papers with bold color washes, dip dyes and large, fantastical prints, such as
botanicals
or birds. Avoid single colors, which can look more like a partially painted accent wall than art, and skip the small-scale prints, which will get lost from a distance.
If you're renting, using liquid starch to mount the wallpaper will allow you to remove it later without damage to the walls.
t
6. Eclectic tapestries.
Think beyond quilts and traditional tapestries when you consider textiles for wall art. Anything woven with interesting details, like the pieces of metal in Moroccan wedding blankets or tiny mirrors in Indian tapestries, can make great wall accents, adding texture to a room.
In this home of an interior designer and her daughter, a vintage shawl with long fringe hangs half as wall art, half as a canopy, and adds to the colorful, bohemian vibe.
7. Wood slices.
Cross sections of tree trunks and branches arranged in a river-like design across this wall bring a natural, organic element to the contemporary living room. The design is particularly eye-catching because of the graphic bullseye look of each piece of wood. Using light-colored wood such as birch would give a more subtle result but still add rich texture.
8. License plates.
A group of vintage plates hung as a collection looks more grown-up and intentional than a single plate. The interior designer of this Denver home used a set of vintage plates from Colorado and elsewhere to give an in-between space in the living room more character.
9. Natural branch.
A pale branch silhouetted against a dark accent wall creates a distinct display in this midcentury modern room.
It can be tricky to figure out how to mount wooden branches. Smaller pieces with sections that lie flat to the wall can be attached with long screws. Heavier branches require mounting brackets or wiring.
10. Handkerchiefs.
A framed collection of silk handkerchiefs enlivens the wall of this living room in Ibiza, Spain, and picks up the bright cobalt, turquoise and red of the rug. To get the scarves to lie flat, the interior designer used floating glass frames. One standout scarf framed or hung from a wooden poster hanger could also anchor the room.
Tell us:
What everyday objects have you turned into wall art? Share your photos in the Comments.