Many of us use art or framed portraits to decorate the walls in our homes. While these conventional techniques work well, they can lack the visual punch we're seeking. The next time a blank wall in your space is asking for attention, think out of the box and go for a more eye-catching approach.
Instead of framing a piece of art, why not create some art on the wall itself? You can hire a mural artist, or create your own geometric design using a custom stencil or painters tape and metallic paint.
People have been using plates as wall art for a very long time. It's the placement of these plates that is so appealing — it carries your eye across the entire wall.
Simple text when framed on such a large scale makes a big statement.
This collage of trays, platters and plates add so much color and dimension to a space where most people would hang a towel rack and call it a day.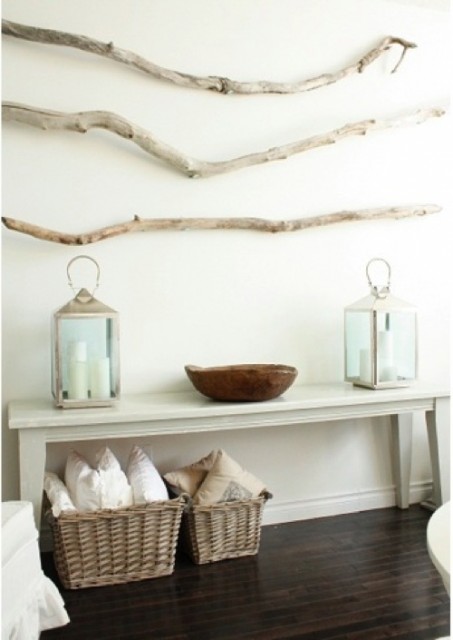 Simple tree branches not only add interest to this space, they're readily available and inexpensive. I love that each one is unique, yet they align so well.
If you're going to stick with frames and portraits, consider adding a couple of unexpected items. The antlers and modern art in this gallery wall keep things interesting.
Old shutters are beautiful enough on their own but, by adding vintage ephemera, you can't help but want a closer look.
Fabric remnants in simple embroidery hoops add just the right amount of color and charm to this little corner.